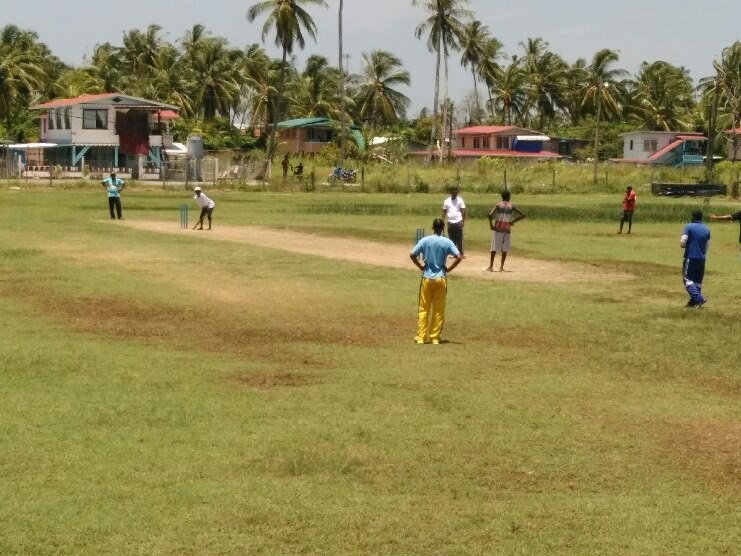 By Sean Devers
kaiteur news
When fast bowler Barrington St Aubyn Browne made his ODI debut for the West Indies against India in five-match series at the Wankhede Stadium in Mumbai, India on October 20, 1994 he was already 27 and that would be his only International series.
Back then it was much harder to get into a West team and although the West Indies unbeaten Test series streak of 17 years would come to an end the next year when Australia defeated the home team in a Test series for the time since 1978, Regional cricket was still fairly strong.
The 52-year-old Browne, speaking from his home in England where he is on a lock down due the COVID-19 virus explained how he grew up in Herstelling, East Bank and how he worked hard on his bowling as a kid and had the passion for the game, something not so common with young cricketers these days.
Browne, who played for East Bank, Malteenoes, Demerara, Guyana, West Indies Under-23s, West Indies Board President's XI,West Indies, Marylebone Cricket Club and Cheshire, would end the series with two wickets in four matches as India won the series 4-1.
On his ODI debut, Browne had 0-27 from 10 overs as West Indies, led by Carl Hooper's 70 made 192 and India were 135-4 off 33.1 overs and won by 8 runs on a revised target, while in his last ODI in Jaipur the Guyanese took 2-50 from 10 overs including the wicket of Sachin Tendulkar, who became Browne first ODI victim. The Indian made 105 to lead India to a 5-run win although Hooper scored 84 and took 1-35 from 10 overs to take the man of the match award.
The Indian side included Skipper Mohammed Azharuddin, Tendulkar, Jadeja, Vinod Kambli and Navjot Sidhu, while the West Indies had Lara, Hooper, Phil Simmons, Stuart Williams, Keith Arthurton, Jimmy Adams, Shiv Chanderpaul, while Walsh was the spearhead of a fast bowling attack which included rookie pacers Browne, Cameron Cuffy and Ande
rson Cummings.
Browne made his First Class debut for Demerara in 1987 just after returning from his third and final year at under-19 level in Jamaica where he was one of seven Malteenoes players in the Guyana team. The Final of the four-day Inter-County tournament had First-Class status until 1990.
The pacer, known for bowling long spells in his heydays, played the first of his 36 First-Class games for Guyana in a National career which spanned from 1988 to 1997 and produced 111 wickets, with five, five-wicket hauls including a best of 6-51.
In the 1993 Red Stripe Cup, Barrington had the most wickets in the tournament (26) and topped the bowling averages before he captured 24 more the next year, while he had 19 scalps in 1995 and 15 in 1996. From 1993 to 1996 Barrington captured 74 wickets with two-five wicket hauls in 1993 including his best of 6-51. He snared 5-27 in 1994, 6-81 in 1995 and 5-48 in 1996.
However, in his last two seasons for Guyana, he played just a single match in each season. While he was a genuine tail ender, his highest Inter-county score is 22 not out, while his highest for Guyana is 29 batting as night watchman when he and his brother Robin played together in the same game. In 1988, playing for the West Indies under-23 side, he made 19 against a Pakistan attack that included Abdur Kadir.
In his 43 First Class game he captured 117 wickets, while he had 29 scalps from 33 Limited over games.
His list 'A' career lasted from 1988 to May 5, 2004 when he played his last game in England for Cheshire v Hampshire at Alderley Edge. Hampshire was led by Australian leg-spinner Shane Warne.
Browne, who played a single First-Class game in England in 1996 for Marylebone Cricket Club and participated in his final Regional 50 game in 1995 when Hooper and Lara shared the Title after the Guyana versus Trinidad & Tobago was washed out twice.
Born September 16, 1967 Browne, the eldest of three brothers who played cricket (Robin played two First-Class and six List A in 1996) and (Rawle, a bit unlucky never to have played for Demerara despite good performances with both bat and gloves for Police), started cricket at a very early age.
"I have vivid memories of playing cricket under my grandmother's house. I had to be around six or seven. I might have played for Farm, the village after Herstelling. If I did play it wouldn't have been a lot of games. I started playing for Providence Cricket Club. I was playing under-16 cricket when I was 12. I found it easy because at the time I was playing second division cricket for Providence CC," said Barrington.
Barrington informed that he was playing U-19 cricket when he was still 12 and made his Case Cup debut as a 13-year-old. "We played against Mackenzie Sports Club and West Demerara against Monty Lynch and the Seeram brothers. In the East Bank team, we had Sydney Matthews, Cuthbert Innis, Garfield Hodge and few others I can't remember," said Barrington.
In those days, Case Cup was the First Division three-day tournament and standard was very high since East Bank, East Coast and West Demerara were First division sides which played in the Demerara Cricket Board competitions, along with McKenzie Sports Club and the City sides GCC, DCC, Everest, Police, GDF and Malteenoes. GNIC and GYO were later included.
"The thing is at that age I could bowl straight, I was consistent and I could seam and swing the ball. Those were fun years, because some of us that came through the youth system came together and formed a cricket club for a year or two. Looking back, my father did all my coaching as a kid and when you play with the older guys in the second and first division you get a lot of advice and you learn so much. Remember you had to go to practice three times a week so you get a lot of feedback," disclosed Barrington.
That does not happen now since most of the older players are overseas or no longer involved in club life in Guyana and that is a reason the local club system is weak. If you want to play International cricket, you must be able to listen to advice and you have to be prepared to do some work on your own also.
"As kids we had a pitch in the backyard. We had a roller, stumps and nets. Only heavy rain could stop play because we had covers too. I can remember began playing about 9:00am. We had about an hour to an hour and half for lunch and then we would play into the night. We turned the lights at the back and played until about 8:00pm. Yes, we had white balls back then, we painted them. They stay white longer than those you buy in the shop.
Thing is, my father would be there all day playing cricket with us. Bowling seam-up, off spin, leg-break googly and I think he tried his hand at left arm orthodox. The thing is, he wasn't crappy at it. He was good enough to give me and Robin decent practice. The long hours of practice got me there quicker. We also had all the kids coming in to play. So growing up we were always playing cricket," explained Barrington.
"Claude St. John set up his cricket coaching clinic which started at Providence CC ground, which is now a football training facility. What a waste! It shows the lack of foresight in Guyana. Then Sterling Products Limited built a ground behind the factory and a very good ground it was too. It was good to do fielding practice on and we enjoyed the free ice cream they provided. That's where I started before Malteenoes," Barrington said.
None of the two governments have allowed and Clubs on the East Bank to use the Providence Stadium since it was built for the 2007 World Cup.
"I started playing cricket at the Regional U-19 level in 1985. I was 16 and played with Carl Hooper, played against Jimmy Adams and Kenny Benjamin. It was the year we won the tournament with some fantastic cricket from Carl and everyone else," continued Barrington.
The 1985 Northern Telecom Regional Youth Championship was played in Guyana and Hooper was superlative. He scored 404 runs at an average of 80.80 and took 33 wickets at an average of 11.15, with an innings best of 7 wickets for 47 runs. Guyana won all its matches and the tournament in 1985.
The 1985 team read: Latchman Bhansingh (captain), Carl Hooper, Peter Persaud, Richard Jodha, Bhagwan Komalram, Stanley Chinsammy, Inlall Baichu, Neil Barry, Vidyanand Ramsaroop, Gavin Smith, Colwyn Cort, Barrington Browne, Ramphal Bactowar and Garry Nascimento –Manager.
Only Hooper and Browne from that team went on to play International Cricket, while the pacer also played at the U-19 level in 1986 in Trinidad and 1987 in Jamaica with Trinidad becoming the first team to win back-to-back three day titles by winning in 1986 and '87.
In the 1991 Bristol Cup semi-final at Albion when Malteenoes became the first City team to beat Port Mourant in Berbice in a thrilling last over finish when Barrington bowled the last man everyone in the City team were in tears. Browne, Colwyn Cort and this writer had three wickets each. Browne continued to play for Malteenoes before leaving to live in England in the late 1990s.