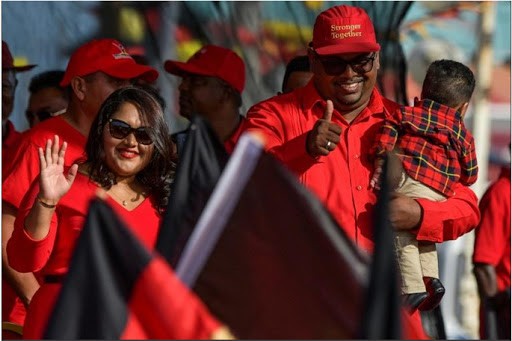 GUYNANESE wake up every day these days to an inspiring, motivating and encouraging socioeconomic agenda from their government. Government policies today implement a beautiful balance between taking care of the social concerns of citizens, while rolling out a visionary, futuristic economic framework. It's a dynamic leadership agenda of intelligence, good conscience and good governance, and utmost care for the welfare of Guyanese of every stripe.
This last week, President Irfaan Ali outlined a solid, progressive, forward-thinking policy framework in three crucial areas. This good news cycle this week showcases how engaged the government is in unfolding a future for Guyana that truly embodies the legendary potential of the Guyanese nation to be one of the best societies in the 21st Century global village.
Every Guyanese would be walking tall these days, not only because the President Ali Government erased the damaging and myopic policies of the Coalition, but now everybody is benefiting from the State embarking on a rapid, urgent, immediate relief package for every citizen, and simultaneously opening new ground-breaking opportunities.
The three new initiatives this past week demonstrate how committed President Ali is to Guyana becoming the best country it could be. The President gave a futuristic, open, confident speech at the launching of the Canada-Guyana Chamber of Commerce, an international business organisation to foster cooperation between Guyana and Canada. President Ali also announced the wonderful news that he has invited every past president to hold a confab with him this month. And in both his addresses at the Guyana Manufacturing & Services Association and the Chamber of Commerce, the President emphasised increasing Guyana's trade links with the Caribbean and North America.
Guyana could only benefit from a Chamber of Commerce networking business and investment concerns in Canada with their local counterparts. Canadian-Guyanese business tycoons offer a lot to their homeland, ranging from international connections to access to training and world-class know-how. Canada today leads the world as a global technology hub, and the 'tech' start-up scene in Toronto is second to none.
In fact, a lot of American start-up gurus now play big in Ontario. One can look forward to the day when Guyana and Canada would develop a Free Trade Agreement, and when Canadian-Guyanese would play a big role in transferring knowledge and expertise in the innovation start-up sector, the entertainment sector, where world-class movies and documentaries could be produced in Guyana, and even the establishment of a strong national research and development industry. In all these areas, Canada excels on the world stage.
Canada could become the conduit through which Guyana learns how to play big on the global stage. This new business organisation could become the highway for a transfer of knowledge and experience and technologies. In his address at the launch, President Ali underlined the importance that Government places on Guyana's human capital as the most important resource the country embodies. Developing the Guyanese human capital pool is, in fact, the single most important factor in achieving the Guyana Dream of propelling forward to the nation's potential.
Canada could make this happen fast, especially given Government's agreement with the University of the West Indies to train 20,000 Guyanese, and with the hundreds of new experts the oil-and-gas industry is making happen, with talented locals travelling to Canada for training, and returning to take up key roles in Guyana.
But President Ali went even beyond this brilliant development of establishing a Canada-Guyana corridor, with the announcement that he will meet with all Past Presidents to hold a conversation on how they could play a role in shaping the new Guyanese future.
This move mirrors the initiative of Nelson Mandela to form a global organisation of outstanding past heads of state, called The Elders. Today, the Elders is a distinguished wisdom group of influential former heads of state, and this group oversees the United Nation's Sustainable Development Goals, the 17 goals that target the year 2030 as the time when humanity would achieve full global human rights.
The Elders serve as a kind of wisdom pool for global humanity. How amazing that the youthful President Ali sees merit in the idea that he could tap into the experience, ideas, knowledge, and human capital of Guyana's top citizens, its past top leaders! His including Brigadier David Granger in the pool, a man who himself has exceptional personal achievements, President Ali shows his magnanimous, open, genuine approach to governing: Every Guyanese matters. Were these past presidents to form a national advisory, visionary, consultancy kind of body to lend their elder statesman status to the task of advancing to the future, the country would become a shining example to the world of national unity, respect for the wisdom of elders, and an inspiration to all Guyanese that truly Guyana could be one nation, working towards one destiny.
These internal happenings pave the way for the internationalist approach of the Government since taking office. President Ali said that Guyanese business tycoons must look to the Caribbean and North America to expand business operations; not focus on dominating local markets only.
Indeed, head of the Government's Investment, Dr. Peter Ramsaroop has already outlined plans to open free trade zones along the borders with Brazil and Suriname. This would tap into historical cross-border trade that has already been going on. In the investment meetings held with visiting Middle Eastern wealth managers, and with ongoing major cooperation with the US, Canada, Britain and the EU through the ABCE group, Government is well set to establish Guyana into a network of global trading partners.
People in every country in this world want to feel confidence in their Government, that policies and programmes and projects would propel them to a future of peace and prosperity. Isn't it amazing to look at this country today, and see that Guyana is blessed with such a direction; that the State is establishing a path to the future that inspires, motivates, and encourages citizens to dream big and aim high, and know that Guyana is rising to be a global success story?
This country is so peaceful, with no threatening natural disaster. There's no internal strife. There's an exemplary showcase of ethnic, religious and cultural togetherness, of a society that is a mecca of tolerance and multiculturalism. People are starting to flock the shores of this land, from Venezuela, Haiti, the Caribbean. And Guyanese welcome them and care for them and show them humane compassion.
It is heartening to see that the State is establishing the way for the Guyanese character to rise and play a role on the global stage. With the Canada-Guyana Chamber of Commerce, with the past Presidents playing the role of elder statesmen, with an expansionist outlook for Guyana to play big in the Caribbean and North America, Guyanese can look up, stand tall, and be thankful for the future now unfolding.