By Michel Outridge
Gleavia Bourne is among 14 others of Perth Village, Branch Road, Mahaicony, East Coast Demerara, who are Community Infrastructure Improvement Project (CIIP) workers.
The group was out in the community, braving the sun, cleaning drains and parapets as part of their daily job.
The mother of three reported that CIIP comes under the Hamlet/Chance Neighbourhood Democratic Council (NDC) and she has been at that job for the past 15 years.
The 35-year-old, who was decked out in her long boots and cutlass was among a group of women and one man, in drains in Perth Village, in knee-deep water removing weeds and refuse from the drains.
Bourne told the Pepperpot Magazine that she didn't have a career as a CIIP worker in mind when she wanted a job but at that time when she needed work that was the only available option and she took it.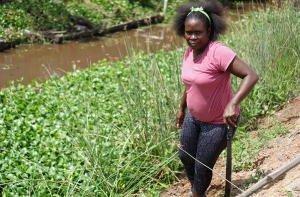 Fifteen years later she is still at it but is doing other jobs on a part-time basis to supplement her income.
Bourne is also a wash bay attendant in her community and a councillor with the Hamlet/Chance NDC.
She explained that the 14 CIIP workers are divided into two groups and they have to work 16 days to clean all drains and parapets in the village of Perth.
"We work four hours a day on weekdays and get paid through the NDC and I don't feel inferior working along with men because it is an honest job and there is no shame in earning," she said.
Bourne stated that she has three children ages 19, 17 and 12 and she doesn't feel ashamed to work in a male-dominated field at all because she has others depending on her.
Her 12-year-old is doing online studies and would go to a friend's house within the village to do sessions via the internet.
Bourne is a community worker, who does a lot of volunteer work to promote sports in her village.
She is responsible for gifting the village football team with gears and also provided support to the circle tennis group and the cricket team.
Bourne added that country life is nice once you work and it is the best life because the air of fresh and not polluted and people know each other and they have a lot of space and they are comfortable and prefer the simple life there.
She told the Pepperpot Magazine that Perth Village is a place of farmers and other hardworking folks, who would go about their daily routine in peace and quiet.
Bourne said the best thing about the country is the people and the way they live, unlike other areas they do not have issues and they co-exist naturally among other ethnicities.
The Rice Farmer
Meanwhile, the Pepperpot Magazine also met Deonarine Sasenarine called 'Chow', he is a rice farmer, who was on his motorcycle about to go to his rice field to do some spraying.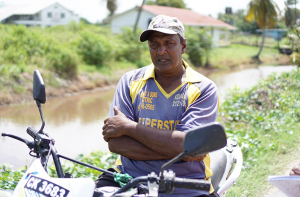 He has a cultivation of 150 acres of different varieties of rice and would employ workers when the need arises, the men are from the community.
Sasenarine, a re-migrant, who returned to Guyana to far, related that the only issue he has as a rice farmer is they need a drying floor for the paddy because a hefty cost is attached to get it to the main road and transport it back into the village.

He explained that the only place they have to dry paddy is on the public road and that is a challenge by itself and it is a time-consuming process for many rice farmers.
Sasenarine reported that drying paddy on the public road includes dealing with traffic and they can only do so on the pedestrian section of the road while in the village they have a lot of space for a drying floor facility.

The rice farmer stated that they would sell to different rice mills but they have two within Branch Road, Mahaicony itself.
Sasenarine added that most people in the village inherited lands, lots of ancestral lands so they ended up farming like their parents and fore-parents.
He related like everything else the price for rice and paddy fluctuates and that would depend on how much a profit they make after every crop.
Sasenarine like others toil daily on their rice fields and he was doing just that when he met the team.

>