VILLAGE elder Chajie Bhoj is 88 years old and is a resident of Number 72 Village 'Hong Kong', Corentyne, Berbice.
When she was younger, she worked side by side with her husband in the ricefields and backlands of the village to bring up seven children.
Having gotten married at the tender age of 14 via an arranged marriage, Bhoj set out with her husband in a modest house made out of mud walls and shingles.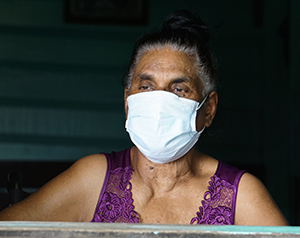 She later began working in the ricefields and backlands catching fish and farming.
Bhoj reported that back then she used to daub the bottom house with cow dung and mud and used to get down on her knees to ensure she didn't miss a spot.
In those days, she recalled they didn't have stoves and firesides were the way of cooking and she believes that it is the fireside food that is responsible for her longevity.
The senior citizen stated that they are living modestly but the place was always kept clean and cleanliness was part of their lives, because that's the way they grew up.
"The fireside food sweeter than stove-cooked food because it kept the food warm for a long time and it was always fresh," she said.
Bhoj disclosed that as a wife she had to get up very early to prepare food and do household chores before going off to work in the backlands with her husband.
The elder pointed out that even though they did not have much back then, they were still happy and had the respect of all because in the village they lived like one big family and people were nicer and cooperated.
She added that young people and children respected their elders and you could not stay around when 'big people' were talking and you had to greet the elders no matter where you were.
Up to today, Bhoj has lived her life with humility and respect and still wears her headtie which she would starch and iron before wearing as a form of respect to others, especially elders in those days and could not leave the house without wearing it.
"These days some young people don't have time for all that and don't even know their culture and has [sic] little or no interest in such things as traditions," she said.
Bhoj stated that the cows used to assist them in ploughing the ricefields for the crops and fetch wood for cooking.
She, like many other housewives, made their own coconut oil for cooking and used it as part of their personal hygiene (used oil on the skin) instead of fancy creams and scented lotions.
The 88-year-old said that she had lived a full life and even to date she is still very much active and does her own laundry and almost everything for herself.
She said that she resides with one of her sons in Number 72 Village 'Hong Kong,' adding that four of her seven sons are still alive.
Bhoj seems to be very happy as she spoke of yesteryear and reminisced on how good things were in the olden days when they had little, but enjoyed a quiet village life.
These days she doesn't get out much although able-bodied, but would attend the mandir and even displayed a photograph when she was there some time ago, all decked out in her Indian wear.
Being wheelchair-bound isn't helplessness
Meanwhile, another village elder Sheilawati Persaud, resides in the oldest house which has been maintained over the years, where she has a shop.
The 69-year-old is wheelchair-bound having lost her right leg in 2017 due to her diabetic condition, but she still does most things for herself.
She has lived all her life in the village, the house in which her parents owned and after their passing, she took over the small business which was established by her late father.
Persaud's relative would sell in the shop, while her sister, who also lives in the same village, prepares her meals, daily.
The elder stated that she has tried her best to upkeep the house which was built by her late father, and it is one of those cosmopolitan houses with its olden designs.
These days because of her diabetic condition, she cannot attend the village health centre for medical care but a doctor visits her at home and dispenses the much-needed insulin which is required.
The neighbours assist Persaud with shopping at the market and any other task she has to do, but cleaning is done by locals, who are being paid.
Persaud is a shut-in, but she is often up for the chat when it is necessary and is thankful for her relatives and neighbours, who are supportive of her well-being.