PRESIDENT Dr Irfaan Ali gave a clarion call to Guyanese around the world to consider migrating back to Guyana, as the country prepares for exponential imminent growth and development. This same optimism and positive anticipation that is sweeping the country today, filled Guyanese worldwide with hope back in 1992 when Dr Cheddi Jagan's Government swept into power with a massive landslide victory. Many re-migrated in the 1990s, opening businesses, investing, and settling down in the countryside.
Today, the world is under a strong internationalist mandate to globalise, to open up national borders to global trade and to embrace humanity as one big family. Thus, it would serve Guyana well to broaden the concept of this idea of the Guyanese nation.
No longer is the nation only a local population. The Guyanese nation now spreads across the world in a far-flung Diaspora spanning every corner of the global village – from Australia and New Zealand to Sweden and Denmark and North America and the Caribbean. Guyanese make up upwards of 10 per cent of the population of Barbados, and they have a big presence in Trinidad and Tobago, Grenada, St Lucia, and St Kitts-Nevis, for example. This idea of a far-flung Guyanese nation, comprising the local population and the international diaspora, offers the country a monumental opportunity for progress on the global stage. This idea of a globalised nation informs not only China and India and Ireland and even the United States, but also Jamaica, as these countries network with their diaspora communities in a deliberate national policy of forming a global chain of human capital emotionally and patriotically investing heart and soul in their homeland. Jamaica reserves seats in its Parliament for members of the Diaspora to play a role in the local legislature.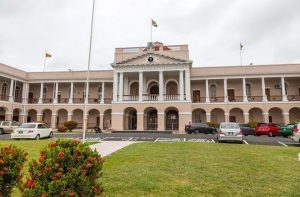 Guyana would do well to develop the idea of Guyana as the homeland, while engaging the far-flung Guyanese diaspora as an extended, international community of Guyanese. In fact, Guyanese everywhere in the world feel alive and connected to Guyana, with romantic nostalgia the usual emotional appeal. Guyanese worldwide fly the Guyana flag, maintain Guyanese culinary culture, and talk the Guyanese way with proud flair. Guyanese everywhere feel a close connection to their homeland. Even the generation born overseas to Guyanese parents feels a heart connection to Guyana. This subtle psychological connection between Guyana and the worldwide diaspora of Guyanese people is a wonderful opportunity to form a national policy of global engagement.
Many Guyanese feel reluctant to leave their well-established lifestyle in their adopted home countries, especially in big metropolitan cities, to migrate back permanently. They visit and enjoy a few weeks in Guyana, but invariably go back to their adopted home. So, even as many will be packing up to head back to the homeland as the country becomes a global success story, many others would want to play a role in the country, without having to re-migrate.
It is, therefore, fruitful for planners to factor in this arm of the Guyana development agenda, this human resource capital that is well established, well educated, well trained, and with international experience under their belt, as a significant resource base. Guyanese, globally, instinctively know what it is to function in a well-advanced society. And they long to give back whatever they can, including making investments and helping the less fortunate. Indeed, Guyana has a long history of the diaspora playing a crucial role in helping the nation through rough patches, such as with constant financial remittances, the programme for barrels to be shipped in to family, and in helping set up orphanages and homes for senior citizens, and with supporting the local education system through school associations in America, Canada and England. Even the political parties have extended overseas groups in diaspora communities, and politicians frequently travel for events in these locales. President Ali, a couple of weeks ago, addressed the Guyana Festival in Toronto, which this year was a virtual event, but is usually a fun-filled week of activities in Canada.
The Diaspora offers much more than the chance to re-migrate. They offer an ambassadorial role in their overseas communities to spread the word about Guyana's amazing character, to hype the nation and boost its image, to develop a global goodwill about the Guyanese nation. The Diaspora is a resource base for the homeland to develop an international network of Guyanese with vested interest in its progress, peace and prosperity.
Guyana is ripe for global investments and everybody worldwide would be eyeing opportunities as oil and gas and the traditional sectors become major success stories. It would serve the nation well, were overseas Guyanese granted special access, and an elevated status, in the lineup to become a part of the Guyana story. Guyanese worldwide could be granted duty-free access to play a major role, and although such incentives already exist for re-migrants, a comprehensive diaspora programme of incentives to motivate, generate full confidence in, and secure investments they make here, would be a forward- thinking move.
The role of overseas Guyanese in national affairs – not only the economy – would go a long way to pave a path to the future that speeds up the country's progress.
Guyanese started migrating in droves under the Forbes Burnham regime, when nationalisation affected many business owners, and for 28 years under the People's National Congress (PNC) regime, tens of thousands migrated. Today, decades later, many see hope and a future for their homeland, and they remain connected to their memories of growing up in Guyana. They want to play a role. It would thus be opportune for Guyana to develop a clear vision and a comprehensive national policy to engage every Guyanese everywhere in designing and shaping the future of the Guyana homeland.