By Michel Outridge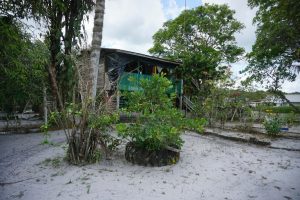 This week the Pepperpot Magazine visited Long Creek, it is a large size village along the Linden/Soesdyke Highway.
The entrance to the community is a small one-vehicle trail, which leads to several areas, including the creek itself on a private property and other occupied land.
Long Creek Village is located between Haurauni and St. Cuthbert's Mission and is home to about 300 people of mixed race.
The area was once a Jamaican/English migrant settlement. Foreigners came, constructed houses and began to reside; as such, they had relations with locals, which birthed the mixed population.
Locals are scattered over the vast land that stretches from the highway, way down to the creek and beyond.
The community has a nursery and a primary school, which is housed in the same building with a teachers' living quarters close by. There is also a well-kept Assembly of God Church not far off.
The village has one small shop and the people are warm and friendly.
Long Creek is a very picturesque place, which draws people because of its tranquil beauty.
The people of this community are farmers, coal-miners, small business owners, teachers and security guards etc., who eke out a living with the resources available.
The community was once populated, but due to a lack of opportunities, many people were forced to find employment and a better life elsewhere.
Long Creek, like most villages along the highway, is without electricity and potable water supply. As such, villagers are forced to improvise. Those who can afford have generators, while some have solar panels.
Residents depend heavily on rainfall, but during dry spells they are forced to walk long distances to the creek to source water to bathe, wash and do other household chores.
The cell phone signals are weak and the only access to the internet they have is via their mobiles with a data plan.
At times, a fish van would pass through the village vending while most residents get fresh vegetables and fruits from their own farms.
Persons would also purchase groceries from Soesdyke or from the capital city.
HARDWORKING BACHELOR: WOLVIS HINDS
Hinds is also a part-time landscaper and would use his brush cutter to do weeding jobs in the community during the day.
The 59-year-old stated that the community do not get much visitors, so he was more than happy to entertain the team.
Hinds added that he grew up in the village and attended school there.
He is originally from Beterverwagting, on the East Coast Demerara, but relocated as a child.
Hinds reported that his mother was a 'grant worker,' back in those days they made wallaba posts, paling staves and burnt coals for a living.
"I was just 10 years old when my mom came here to work and we settled here because she was earning and it became our home."
Unfortunately, Hinds's mother (who was a single parent) passed away, so her nine children were forced to lead their own lives.
Hinds related that one of his sisters still resides in the village while the other lives in the city.
"I live here alone and do everything for myself but it gets lonely at times, but that is overlooked because I like the quiet and I don't like a crowd so this setting for a simple life suits me just fine and I get by despite the challenges of living this far off."
The father of five added that although he never married that thought still lingers in his mind and once he finds the ideal partner, he is willing to tie the knot.
"I does make my own roti and so I am self-sufficient and really don't need help in terms of chores but having someone around might be nice."
The mild-mannered man pointed out that he has a small solar panel which powers his radio and that is his company and he would leave it on while he is at home.
Hinds added that he would have data on his phone when he can afford and would browse the internet to keep up-to-date with what is happening in the world.
He reported that he is the rural constable in the community but due to the pandemic, he is not functioning in the post.
Hinds is also fond of plants and flowers, which he planted in his yard to beautify his environment.