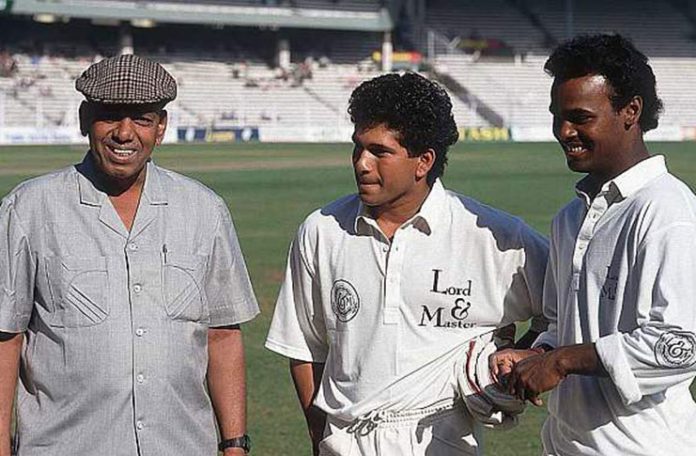 LEGENDARY coach, Ramakant Achrekar, passed away on Wednesday (January 2), aged 87. Achrekar, born in 1932, was a massive figure in Mumbai's local cricket circuit with several of his wards going on to represent the country.
While Sachin Tendulkar was his most famous protégé, a few others like Chandrakant Pandit, Sanjay Bangar, Pravin Amre and Ramesh Powar have gone on to achieve success as coaches at higher levels.
Achrekar, who has played only a solitary first-class game, rose to prominence in the 1980s when several of his students made names in Mumbai's local cricket.
Apart from Tendulkar, he has coached around a dozen international cricketers, including the likes of Vinod Kambli and Ajit Agarkar who went on to play more than 100 matches for India.
Achrekar was conferred with the Dronacharya Award in 2010, becoming only the third from the field of cricket to be bestowed the honour. 20 years later, in 2010, he was awarded the Padma Shri – the fourth highest civilian honour in India.
"Cricket in heaven will be enriched with the presence of Achrekar Sir," Tendulkar said in a statement. "Like many of his students, I learnt my ABCD of cricket under Sir's guidance. His contribution to my life cannot be captured in words. He built the foundation that I stand on.
"Last month, I met Sir along with some of his students and spent some time together. We shared a laugh as we remembered the old times. Achrekar Sir taught us the virtues of playing straight and living straight.
Thank you for making us a part of your life and enriching us with your coaching manual. Well played Sir and may you coach more wherever you are."(Cricbuzz.com)